Officiating Volleyball
A coaches guide to refereeing
Officiating volleyball guidelines to success. 
Referee Tips for Better Officiating
Spotlight is on the teams, not the officiating. Allow the game to progress as smoothly as possible. Your primary job is to have the match go as smoothly as possible with little interference from officials.


Strive for consistency. Never "even up" when you have made a mistake. If you make a mistake, let it go and continue to do the best you can. Don't let complaints bother you or break your concentration. Some of the best matches will bring you the most complaints.


Be friendly and courteous, but also firm. Don't let players, coaches, and the crowd influence your decisions. Listen to any reasonable inquiry, but don't allow constant questioning about your calls.


Review rules and situations which tend to cause controversy. Read the rulebook, ask a clinician, or anyone that you feel can give you the needed answer. Rules that commonly cause problems are time-out for injury, simultaneous contact by opponents, illegal improper requests for subs, libero player situations, and back court attacker/blocker rules.


The officiating crew should be officiating volleyball as a team. Work together with your other officials. Cooperate as closely as possible. Give each other active support.


Be serious but have fun. You owe it to respect the game. Every match is important to the teams playing. Get in the right frame of mind and focus on the match you are about to officiate.


Know the rules. Read the book and use it as a reference. The referee is the final judge on everything, even scorekeeping issues.


Referees should NOT be a part of the match. Your job as a referee is to watch and judge, do not coach. Be consistent.


Use preventive officiating whenever possible. Examples are jewelry, water on the court, etc.


Have consistent judgment. What is a catch/throw or double hit? It all depends on the level of play of the teams. Allow play on both sides of the net and call what is different.
If you enjoyed these volleyball tips and would like to keep this information close to you at any time, just save this pin to your Pinterest Volleyball Training Board.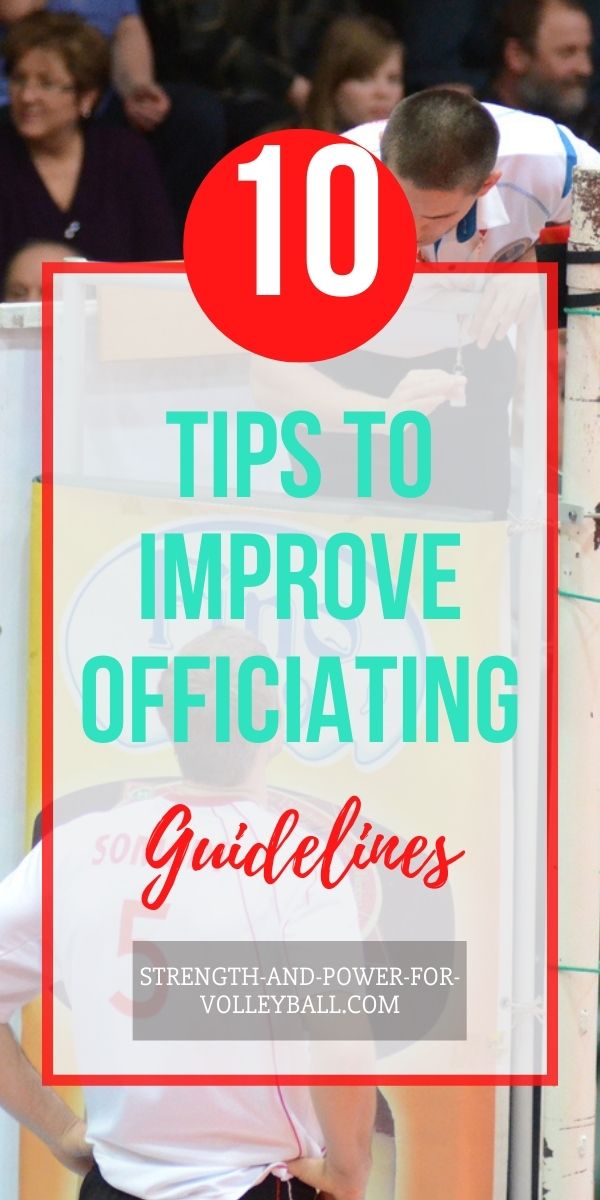 ---
Officiating Volleyball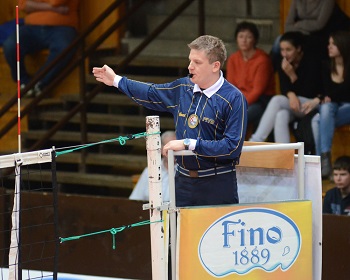 R1 (First Referee) Beckoning for Serve
If you're new to officiating, you may find it very difficult in the beginning. There's a lot of pressure getting the call right. However, just remember this... officiating is the only profession where the referee is expected to be perfect the first time out and then improve from there. The point is, there are ridiculously high standards set for the referee. 
---
Volleyball › Officiating Volleyball
---
---