Basic Volleyball Exercises
Core Strength and Power
When selecting basic volleyball exercises for core training, it's important to understand the various types of resistance training exercises.
When discussing core training, it may be easiest to group resistance training into 3 categories….
Mult-joint exercises (squat, deadlift, push up)
Single joint exercises (ab curl up, back extension)
Core Stabilization exercises (lying hip extension, plank)
Multi-joint exercises Multi-joint exercises recruit large muscle groups and involve using two or more primary joints. Multi-joint exercises are the most important of the basic volleyball exercises.
Multi-joint exercises such as back squats and deadlifts take a great deal of core strength to perform correctly. Without adequate core strength, you may be risking injury.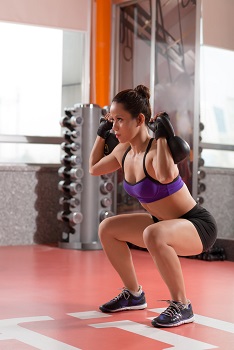 Front Squat
---
Single joint exercises Single joint exercises are performed using 1 primary joint. They are also referred to as assistance exercises because they are smaller muscles that assist the larger muscle actions. Assistance exercises help you get better at performing multi-joint exercises and are less important.
Core stabilization exercises The many small muscles that are attached to your lower back, abdominals, hips, pelvis, ribs, and shoulder blades are the keys to all athletic movements. These muscles act to stabilize the body and should be trained in many of your volleyball exercises. Not only are these core stabilizer muscles important for improved sports performance, but they also improve your body's resistance to injury.
If you enjoyed these tips and would like to keep it close to you at any time, just save this pin to your Pinterest Volleyball Training Board.

---
Basic Volleyball Exercises for Core Stability
Developing core stability should be the focus of your training because stability is the main function of your core. Basic volleyball exercises should involve training for stability around the shoulders, hips, and trunk.
Lying Hip Extension (Glute Bridge)

Training the glutes, hamstrings, and spinal erectors with hip extension is often neglected from volleyball training. Hip extension is an important movement in sports and should be included in volleyball exercises.
Purpose:
To activate and strengthen the glutes and muscles of your lower back.
Starting Position:
Lie on the ground face up. Place your feet flat on the ground. Pull your shoulder blades back and down. Brace your core and fire (contract) your glutes.
Action:
Raise your hips and flex your knees so that only your feet, head, shoulders, and arms are touching the floor. Your body should be in a straight line from knees to shoulders.
Coaching cues:
To help activate your glutes, you can lift your toes up off the ground and press down through your heels.

This will also prevent you from using your quadriceps. You can hold the position for a designated time or perform repetitions.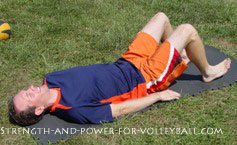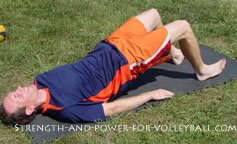 ---