Mens Olympic Beach Volleyball
2020 to 1996 Olympics
Mens Olympic beach volleyball results.
The beach volleyball tournaments at the 2020 Summer Olympics in Tokyo took place between July 24th and August 8th 2021. 48 beach volleyball teams participated in the tournament.
The men from Norway won gold medal in men's beach volleyball for the first time in Olympics history. For the second consecutive day, the gold medal match was decided by a sporadic serve. 
Teammates Anders Mol and Christian Sorum defeated the Russian Olympic Committee's Viachelslav Krasilnikov and Oleg Stoyanovskiy in just 2 sets, 21-17, 21-18. Both sets were extremely close, although Norway maintain control throughout.
After ROC jumped out to a 5-1 lead in the first set, Norway fought back to go on a 10-4 run to take control of the set. 
The ROC rallied to bring itself within two points, but served straight into the net on match point No. 2, which resulted in the gold medal for Norway. This ended very much like the United State's team of April Ross and Alix Klineman which clinched gold medal status in the women's tournament Thursday.
2008 Men's Olympic Volleyball Results
Todd Rogers and Phil Dalhausser are the gold medalists in mens beach volleyball at the 2008 Summer Olympics.

Rogers and Dalhausser beat the Brazilian team of Fábio Luiz Magalhães and Márcio Henrique Barroso Araújo in the final.
"I feel like I don't even belong up here," Dalhausser said Friday after he and Rogers beat Brazil in three sets to win the gold medal.
"These guys have been playing well for so many years, I just don't feel like I even belong."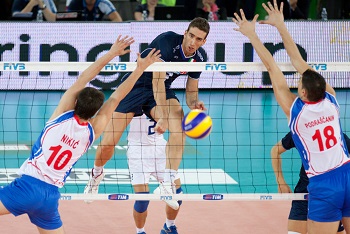 ---
Seeded third in the competition, Emanuel and Ricardo won 21-15 and 21-10 convincingly in 36 minutes over 15th-seeded Renato "Geor" Gomes and Jorge "Gia" Terceiro of Georgia to claim their second Summer Games medal after winning the Athens 2004 Olympic title.
---
Beach Volleyball 2004 Olympics

Ricardo Santos and Emanuel Rego beat Spain's Javier Bosma and Pablo Herrera 21-16 21-15 tonight to bag Brazil's first men's Olympic beach volleyball gold medal.

With Emanuel acing and Ricardo providing some spectacular blocking, the second set was an even easier result. The Brazilians led by as many as eight points.

Emanuel made five aces in the game, from a total of seven for Brazil and Ricardo had two blocks, both in the second set.

As Ricardo delivered the last point of the tournament hundreds of green and yellow Brazilian flags unfurled in celebration.
---
2000 Mens Olympic Beach Volleyball Results

The 2000 Olympics was staged in Sydney, Australia. Mens Olympic Beach volleyball took place on Sydney's most famous beach, Bondi Beach.

The matches were staged within a secured area that also included eight training and warm up courts.

There were 84 teams total that competed. There were 48 male teams and 36 female teams.

There were 116 scheduled matches that took place from September 16th to the 27th. Like the 1996 Atlanta Olympics, there were two sessions each day.

Dain Blanton and Eric Fonoimoana of the United States defeat Zé Marco and Ricardo Santos of Brazil in 2 sets 12-11 and 12-9 to win the gold medal.
---
Mens Olympic Beach Volleyball 1996 Results

Sinjin Smith and Carl Henkel were the first US men players to qualify for the beach competition in the 1996 Atlanta Olympics, by earning the most FIVB points.

Beach volleyball Olympic trials
The team of Mike Whitmarsh and Mike Dodd was the first team to qualify at the Olympic Trials. Karch Kiraly and Kent Steffes would later beat out Randy Stoklos and Adam Johnson for the final Olympic birth.

Beach volleyball Olympic debut
On July 23, 1996, beach volleyball made its debut at Atlanta Beach.

During each of its sessions, the stadium was filled to capacity with 8,000 screaming fans in the main court, with another 3,000 on the outside court.

The format
A double elimination volleyball tournament was played for both men and women until a total of four teams qualified for the semifinals.

Semifinal winners played for first and second places while the losers played for third and fourth places.

The Mens Olympic Beach Volleyball event consisted of 24 teams. On the women's side, there were 16 women's teams. 

Karch Kiraly and Kent Steffes beat Mike Whitmarsh and Mike Dodd to win the gold medal.
If you enjoyed these tips and would like to keep it close to you at any time, just save this pin to your Pinterest Volleyball Training Board.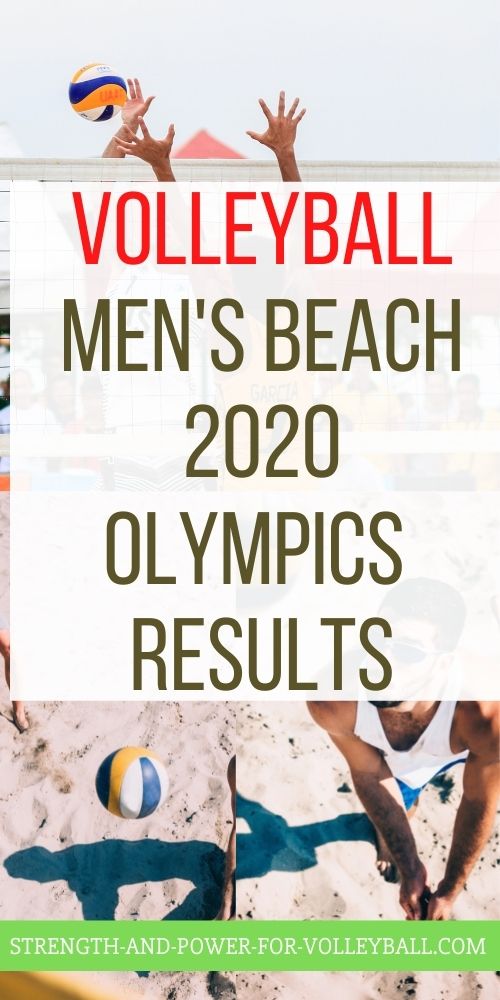 ---
Volleyball › Beach Volleyball Players › Men's Olympics
---
---