Would You Like to Learn the Most Effective Way to Strength and Conditioning for Volleyball? 
Dear Player or Coach,
Would you like to...
Easily adjust your steps to poorly set balls
Hang high in the air and spike down into the court
Hit the ball harder than anyone in the gym
Be extremely comfortable moving your feet to get in position to pass 
Quickly and easily get to every ball on defense
Reach higher and penetrate the net further blocking the ball more than you ever dreamed possible
---
PART 1 INTRODUCTION
This section covers what you need to know about the Program. The Program is broken down into 4 phases with each phase having specific goals.
Phase 1: Weeks 1, 2, and 3. The focus is on mobility, stability, and balance. This is the preparation work.
Phase 2: Weeks 4, 5, and 6. The focus is on elasticity, strength, and work capacity (volume). 
Phase 3: Weeks 7, 8, and 9. The focus is on speed, power, strength, and the quality of training.
Phase 4: Weeks 10, 11, and 12. The focus is on speed, power, strength, and the quality of training.
---
PART 2 WARM UP
Correct Warm Up Drills. The warm up prepares the body for movement. You will learn the correct warm up exercises that prepare your body for fast explosive movements.
Develop Dynamic Flexibility and Strength. You will learn the important dynamic exercises for flexibility and strength. Unlike static stretching that basically puts your muscles to sleep, these dynamic drills will raise the body's core temperature, waking up the nervous system, preparing the body for the intense workout ahead.  
---
PART 3 BODYWEIGHT
Body Weight Resistance Training.

In this section, you will learn the 40+ drills I use to develop core strength and power using only your body weight as resistance. These body weight movements are critical to not just strengthening your core, but also all the small muscles supporting your knee, hip, and shoulder joints. You're going to improve posture, relieve lower back stress, and improve performance out on the court.  
---
PART 4 STRENGTH
Upper Body, Lower Body, and Core Strength.

The strength section consists of important resistance training exercises that will help you not just get stronger, but also become more functional. Functional training focuses on injury reduction through progressively higher demanding exercises, while at the same time improving performance. So as you get stronger, you will also be reducing chance for injury as you become a more athletic volleyball player. 
---
PART 5 EXPLOSIVENESS
Speed, Quickness, Explosive Jump. The jumping drills will help you develop lower body explosive strength. You will also learn multi-directional agility drills and fast feet drills important for developing speed, quickness, and coordination.  

---
BONUS #1 COURT CONDITIONING WORKOUT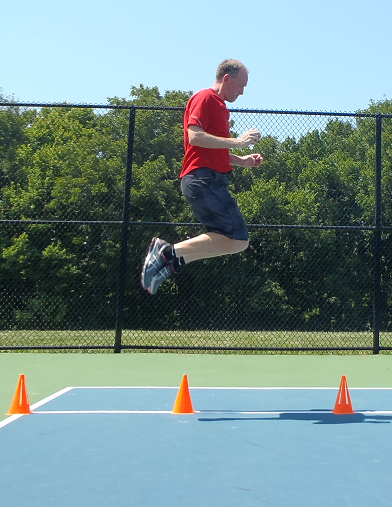 Low Impact Plyometrics. This workout is great for developing strength, speed, quickness, and the vertical jump. Even though these drills are low impact, they are still very important. These are skill enhancement drills aimed at teaching or rehearsing certain motor patterns.
Team Plyometric Workout. This workout takes about 20 to 30 minutes (depending on the level) and can be done before or after volleyball practice.
Individual Plyometric Workout. This workout can also be given to a player to be done individually on their own.   

---
BONUS #2 BODYWEIGHT WORKOUT
Body Weight Strength Training. This program is designed specific to developing strength and power for volleyball using only body weight as resistance. No equipment necessary! 
---
BONUS #3 MEDICINE BALL WORKOUT
Medicine Ball Strength and Explosiveness. Are you not naturally explosive when it comes to spiking or serving a volleyball? Most of us must work really hard to develop the strength and explosiveness necessary to crush the ball. This medicine ball routine will help you become a much more explosive server and spiker.  
---
BONUS #4 BAND WORKOUT
Band Strength Training. Bands are great for strengthening the most vulnerable areas that get stressed in everyday movement: your hips, core, and shoulders.
Take your muscles through greater ranges of motion. Through band training, you will improve posture and alignment, increase range of motion, teaching your joints to move more efficiently. See the resistance bands I Use
---
BONUS #5 PHYSIOBALL (BALANCE BALL) WORKOUT
Balance Ball Training. Improve balance, stability, and strength with stability ball training. Shoulder stabilization exercises on a balance ball will make you much stronger because you strengthen all the little stabilizer muscles that improve balance. You will gain control and become aware of muscles you didn't know existed. Here's my Favorite Balance Ball
---
BONUS # 6 DUMBBELL WORKOUT
Dumbbell Strength and Explosive Training. For this dumbbell workout, all you need is a pair of dumbbells. Dumbbells are great functional training tool. 
Key Functional Training for Volleyball Strength Exercises. Exercises performed on one leg such as the "one arm one leg dumbbell row" allow you to recruit more muscles while also improving coordination.  
---
BONUS #7 FOAM ROLL WORKOUT
Foam Roll Routine. The Foam roller is a unique tool for regenerating muscle tissue. The purpose is to help create the high quality muscle tissue possible.
Massage for a Faster Recovery. The foam roller uses deep compression that massage out deep muscle spasms that develop over time. The massage results in your nerves relaxing, your muscles loosening up, helping blood flow resulting in a quicker recovery.

My Favorite Roller
---
---
---