Logan Tom
Most Recognizable Player in the World
Logan Tom is one of the greatest all-around volleyball players playing the game today. To go with her good looks, Logan has a combination of volleyball skills athletic ability that are unmatched.
Before discovering volleyball, Tom played many other sports - soccer, baseball, basketball, softball and track.
At 13, Logan first took steps onto the volleyball court.

Logan led her High School to two state championships, while valedictorian of her class with a 4.0 gpa.
Logan began playing international volleyball in 1997 when she took a trip to Brazil with U.S. Women's Junior National Team.
In 2006 and 2007, Logan spent her professional indoor volleyball off-season playing beach volleyball. Logan spent a great deal of time training with beach volleyball legend Holly McPeak. Logan has referred to training for beach volleyball as "the hardest thing I have ever done."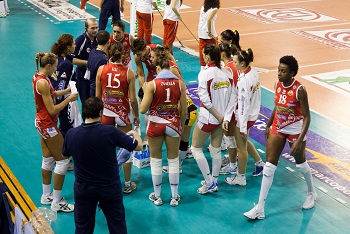 ---
College Highlights

Attended Stanford University 1999-2002.
One of only three college players to ever earn First-Team All-America honors.
Her freshman year of college, Logan took Stanford to the NCAA championship finals. Tom then took a semester off of school to prepare for the Summer Olympics.
Logan returned back to Stanford from the U.S. National Team in October of 2000. Only playing half of Stanford's matches, Logan was an offensive force leading her team aces and kills.
In 2001, Logan played the entire season leading Stanford to an NCAA Championship.
---
Career Highlights

At 19, Tom becomes the youngest woman to make the U.S. Olympic volleyball team in 2000.
Wins NCAA title as a sophomore at Stanford.

In 2001 and 2002, named American Volleyball Coaches Association Player of the Year.
A member of the 2004 U.S. Olympic volleyball team. 

Spent the last two years playing beach volleyball on AVP tour partnering up with AVP beach volleyball player Holly McPeak. 
Plays professional volleyball in Russia, Italy, Brazil, Switzerland, and Spain.

In 2007, Logan rejoins the U.S. team in order to prepare for her third Olympic Games next Summer in Beijing.
---
Did you know this about Logan Tom?
One of the very best players to where a Stanford Cardinal volleyball jersey, Tom was inducted into the Stanford Athletic Hall of Fame. She is still currently 3rd all-time in kills at Stanford. She was also named the best offensive attacker at the Olympic Games in Beijing. 
---
Tom Related Pages
---
Volleyball › Famous Volleyball Players › Logan Tom
---
---