Kerri Walsh
4th American Woman to Surpass
$1 Million in Prize Money
Kerri Walsh is likely on her way to becoming the best female beach volleyball player of all time.
In 2006, Walsh became the fourth American woman to surpass $1 million in Pro Beach Volleyball prize money.
She has led the AVP in both blocks and hitting percentage in 2005, 2006 and 2007.
She has been the top-ranked player each season she has played domestically.

Together with beach partner Misty May-Treanor, Walsh and May are one of the most famous beach volleyball teams in the world.
Walsh was a member of the United States National Volleyball Team for two seasons (1999-2000) and was a right side hitter on the 2000 Olympic Team, helping the team place fourth in Sydney. 
A day in the life of Kerri Walsh Jennings...
I grew up playing soccer baseball and basketball with the boys. Volleyball was the first girls sport I started playing and fell in love with it on the first day I played. I really just want to be the best player I could ever be and I'm not just there yet.
There is still more inside of me. To be a great athlete you have to be nimble and adaptable, much the same as being a parent. My husband and I really want our kids to get good habits from us, so we try to practice what we preach. As athletes we feed our body's all for performance so we have to start the day off right with a healthy breakfast.
---
Walsh at the Net
A Star at Stanford
Before graduating from Stanford University with a BA in American Studies, Kerri enjoyed a successful collegiate career winning a National Championship, the Player of the Year award, and First-Team All American honors.

Kerri Walsh is considered to be one of the best all-around players in collegiate history.
While at Stanford, Kerri became only the second player in NCAA history to receive First-Team All-American honors all four seasons (1996-1999). She was also the first player in PAC-10 history to record 1,500 kills (1,553), 500 blocks (502), and 1,200 digs (1,285).

She comes from an athletic background as her mother was named two-time MVP in volleyball at Santa Clara and her father played minor league baseball for the Oakland A's.
If you enjoyed these tips and would like to keep it close to you at any time, just save this pin to your Pinterest Volleyball Training Board.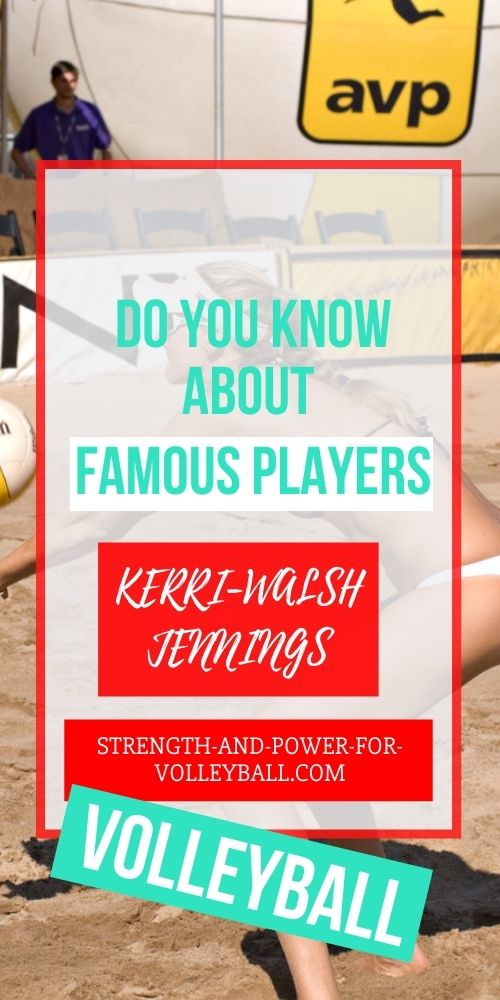 ---
Walsh Volleyball Quote

Today, today, today is what matters. Take advantage of it, make a difference, smile more, work harder; it will pay off.
---
Interesting Facts

In 2004, Kerri Walsh and teammate Misty May won the Beach Volleyball Gold Medal at 2004 Olympic Games in Athens, Greece. It was the first United States Women's Beach Volleyball Gold Medal in US Olympic history.
Second player in NCAA history to receive First-Team All-American honors all four collegiate seasons (1996-1999). 
In 2005, Kerri married Professional Beach Volleyball player Casey Jennings.

Favorite advice for the beach, Play dirty and be ready for anything, from Butch May.
---
Career Highlights

2007 AVP - Best Offensive Player, Best Defensive Player, Most Valuable Player and Best Team of the Year

2003 AVP Best Offensive Player

2006, 2007 AVP Crocs Cup Champion with partner Misty May-Treanor

2003, 2004 AVP Most Valuable Player
2003, 2004, 2005, 2006, 2007 AVP Team of the Year with partner Misty May-Treanor 

2002 FIVB Tour Champion with partner Misty May-Treanor

2005, 2006, 2007 FIVB Best Blocker

2005, 2006, 2007 FIVB Best Hitter

2005, 2006, 2007 FIVB Sportsperson

2007 FIVB Best Offensive Player

2007 FIVB Most Outstanding
---
Dane Seznick comments on Kerri and Misty dominating the beach...

"Overcoming adversity is right up this duo's alley...they're probably one of the best teams I've ever seen at staying together when things get a little bit tough."

-- Dane Selznick, Pro Beach Volleyball Coach
---
Kerri Walsh Related Pages
---
Volleyball › Famous Volleyball Players › Kerri Walsh-Jennings
---
---