Famous Beach Volleyball Teams
Most Successful Partnerships All Time
Famous beach volleyball teams of 2021 on the women's side include Alix Klineman, April Ross, Agatha Rippel, Eduarda Lisboa, Tanja Hüberli, Nina Betschart, Kelly Claes, Sarah Sponcil, Sarah Pavan.
Famous beach volleyball teams of the men include Cherif Younousse Samba, Ahmed Tijan Janko, Christian Sørum, Anders Mol, Piotr Kantor, Bartosz Losiak, Viacheslav Krasilnikov, Oleg Stoyanovskiy, Ondrej Perusic, David Schweiner, Konstantin Semenov, Ilya Leshukov, Stefan Boermans, Tri Bourne.

---
Famous beach volleyball teams and players from Jim Menges to Misty May-Treanor.
On Aug 20, 2008, Misty May-Treanor and Kerri Walsh made history becoming the first team to ever win back-to-back Olympic beach volleyball titles.

The gold medal victory also marked their 108th straight match win.

May and Walsh were distinguished as AVP Team of the Year for four consecutive years (2003 through 2006).

May was also named Most Valuable Player in 2005-07, Best Offensive Player in 2004-07, and Best Defensive Player in 2006 and 2007.
---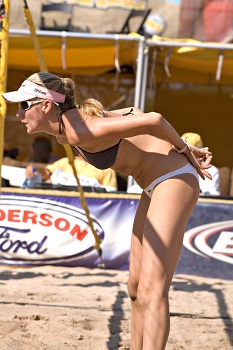 Misty May-Treanor Kerri Walsh-Jennings

May is the sport's winningest player with 103 tournament victories.

Walsh is a two-time AVP MVP (2003, 2004).

Walsh was also named AVP Best Offensive Player in 2003.
For three straight seasons, Walsh was chosen as the FIVB's Best Hitter, Best Blocker and Sportsperson in addition to collecting the 2007 Best Offensive and Most Outstanding Player awards.
---
Famous Beach Volleyball Teams Karch Kiraly, Kent Steffes

Atlanta in 1996, Karch Kiraly partnered with Kent Steffes to win the inaugural Olympic gold medal in two-man beach volleyball.

Arguably the greatest volleyball player of all time, Kiraly was a star on the beach for over two and half decades. Kiraly was the leading money winner and top player at American beach volleyball for most of the early 1990s.

Kiraly partnered with Steffes for more than half of his career wins.
1996 Olympics Beach Finals Game 2
---
Randy Stoklos and Sinjin Smith
Stoklos and Smith are the winningest men's beach volleyball team in history with 114 titles in 235 starts with 203 podium placements and 212 "final four" finishes.
---
Ricardo Santos and Emanuel Rego

Santos and Rego have teamed to win the most FIVB events (24), including 23 SWATCH-FIVB World Tour gold medals.

Rego is the SWATCH-FIVB World Tour leader in career earnings and gold medals.

Rego has also won the Brazilian "King of the Beach" competition twice (2004 and 2005).
---
Adriana Behar and Shelda Bede
Adriana Behar and Shelda Bede have been one of the most successful international beach teams since 1995.

In the late 1990's, Behar and Bede were consistently the No. 1 or No. 2 seed in every tournament they entered. After finishing third at the 1997 World Championships, Behar and Bede won the 1998 Goodwill Games and the 1999 Beach Volleyball World Championship.
---
Bernie Holtzman and Manny Saenz

Manny Saenz won his first major beach tournament in 1948 with Al Harris. Later, Saenz teamed with Bernie Holtzman to win just about every beach match they played.
---
Jim Menges and Greg Lee

Menges and Lee made the finals in every volleyball tournament they entered together. From 1973 to 1982 Menges and Lee won 25 out of 28 tournaments, finishing second 3 times.
---
Ron Von Hagen and Ron Lang

Von Hagen and Lang won 28 tournaments together during an era where there were only 2 or 3 tournaments a year.
---
Phil Dalhausser and Todd Rodgers

Dalhausser and Rodgers appear to be on there way to being one of the most famous beach volleyball teams of all time. Since teaming up, Dalhausser and Rodgers won 27 of the 43 AVP events they entered, including eight of 10 in 2008.
If you enjoyed these tips and would like to keep it close to you at any time, just save this pin to your Pinterest Volleyball Training Board.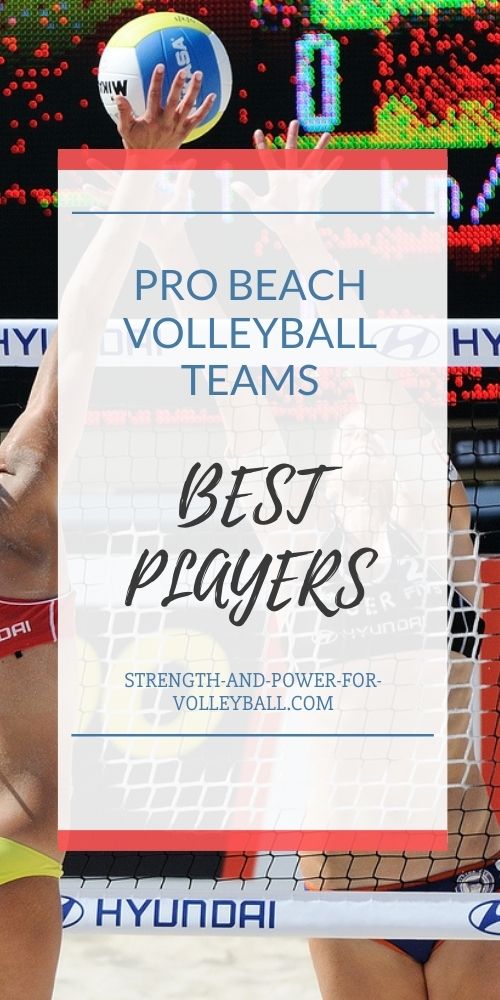 ---
---
Volleyball › Beach Volleyball Players › Famous Beach Volleyball Teams
---
---