Flo Hyman
USA Volleyball MVP for 1978 - 2002
Flo Hyman was born Flora Jean Hyman in Inglewood, California.

At six feet five inches tall, Hyman was the nation's most intimidating offensive player, able to accurately spike a volleyball with a fierce velocity unmatched by any other player of her time.
Hyman USA Indoor Volleyball Legend

This was known as the Flo Hyman Award.

As a child, Hyman was self-conscious about her height.
Flora Jean Hyman was widely admired for her good sportsmanship.
In 1987, the Women's Sports Foundation established an award given to the female athlete who best exemplified over the course of her career "dignity, spirit, and commitment to excellence."
Hyman grew to be six feet tall by the time she was in junior high school. Her mother was also tall and encouraged her to be proud of her height and gifted athletic talent.
Hyman turned down the opportunity to play basketball or track. She took up volleyball her sophomore.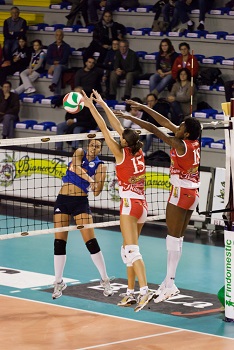 ---
Flora Jean Hyman Volleyball Quote

Pushing yourself over the barrier becomes a habit. . . . If you want to win the war, you've got to pay the price."
---
Hyman Career Highlights

In 1974, Hyman earned a spot onto the U.S. national volleyball team while still in high school.

In 1977, after being regarded as the nation's top collegiate volleyball player and one of the world's most outstanding players, Hyman decided to forego her senior year of high school to practice and play full-time for the U.S. national team, preparing for the 1980 Olympics.

Hyman Fierce Spiking at the Net

Flo Hyman was selected as the most outstanding player of the 1981 World Cup and at the world championships in 1982, when she led the United States to a bronze medal.

Hyman was inducted into the Volleyball Hall of Fame in 1988 and named by USA Volleyball as the MVP for the years 1978 - 2002.
---
Other Achievements

November 29, 1999 issue of Sports Illustrated, #69 on greatest century woman athletes.

Three time All American.
Worldcup Competition, top six players of 1981.

Best Hitter, Worldcup Competition 1981.

Bronze medal in the 1982 World Championships in Peru.

Silver medal in the 1984 US Olympics.
---
Hyman Related Pages

---
Volleyball › Famous Volleyball Players › Flo Hyman
---
---