Volleyball Sayings
Lingo, Mottos, Cheers, and Slogans

Volleyball sayings can be used for many things such as t-shirt slogans.
Volleyball Cheering

Many teams create warm-up shirts to use to help inspire and motivate their team.
---
Sayings for T-Shirts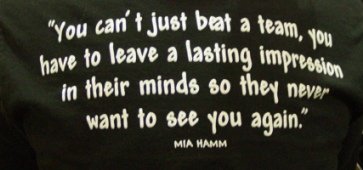 Mia Hamm Famous Quote

A great way to build team unity and spirit is to create t-shirts that have a motto with a volleyball clipart image. These fun t-shirts make your team stand out and can be worn during volleyball practice or pre-match warm-ups.
It's An Air Affair!
Block this!
We're gonna spike you!
Where the Spirit of Service & Spiking lives on!
What a Line-Up
You set it in the air I'll hit it anywhere!
Foul Play Suspected
It's Goin' Down!
Volleyball Rules My Life 4eva!
Net Results are Awesome
Mind over matter......cuz in our mind, you don't matter.
Bump it, Set it, Smack it down
Volleyball is life
Bump - Set - DOMINATE!!
JGUTT (front) Just Give Us The Trophy (back)
wanna win.........then pick a new sport If you can't take the heat (front) get off the court (back)
Kiss my ace!
(team name) volleyball (front) Warning: (team name) are not responsible for lost or damaged pride (back)
Practice winning every day!
Meet me at the net!
Let's settle this at the net!
See you in Court
Volleyball 631. Six players. Three touches. Won.
If you like this information and would like to keep it close to you at any time, just save this pin to your Pinterest Volleyball Board.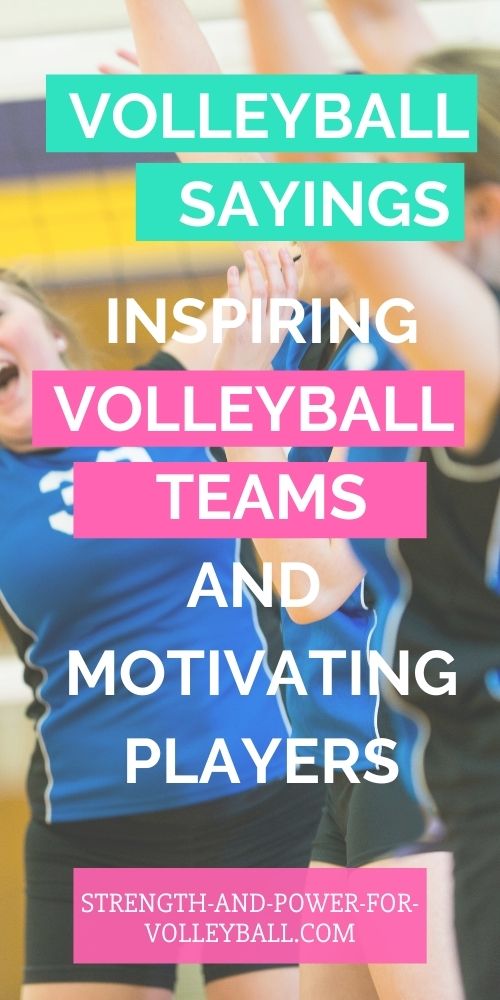 ---
Team Mottos

Play to Win, Don't Play Not to Lose
Play from the heart
Volleyball is 95% mental and 5% Physical
ALL IT TAKES IS ALL YOU'VE GOT
Raise your expections
Step up or step off.
No pain no gain
We're Going To Pump You Up
Our game is as tight as our spandex.
Team Work Makes The Dream Work
Demand respect or expect defeat
Winning isn't everything, it is the only thing.
---
Volleyball Sayings & Team Slogans

We bust ours...to kick yours
Excuses are for those who know they're going to loose
You don't have to win it, just don't lose it.
The New Kids on the Block
ATTITUDE IS EVERYTHING
Volleyball is our business and business is good.
BUMP, SET, SPIKE IT. THAT'S THE WAY WE LIKE IT.
PLAY HARD, GET DIRTY
Work hard. Have fun. Win!
Losing is not an option!
OUT HUSTLE, OUT WORK, OUT THINK, OUT PLAY, OUT LAST
Whatever it takes...
Practice, practice, practice
One World, One Game
---
Volleyball Sayings Related Pages

Sports Quotes
---
Volleyball › Volleyball Quotes › Sayings
---
---