Womens Olympic Beach Volleyball

Womens olympic beach volleyball for the 2020 Olympics will be held in Tokyo, Japan. The dates for competition are July 25th to August 9th.
We expect 48 beach volleyball teams will participate at the beach volleyball tournament site held at Shiokaze Park. This is the location of the temporary Shiokaze Park Stadium.
Womens olympic beach volleyball for the 2016 Olympics was held in Rio de Janeiro, Brazil.

New team won the beach tournament on the women's side this year. Laura Ludwig and Kira Walkenhorst of Germany earned the gold with a victory in 2 sets over Agatha Bednarczuk and Barbara Seixas de Freitas of Brazil that take the silver medals
Americans Walsh Jennings and teammate April Ross won bronze with a tough three-set battle over Larissa Franca Maestrini and Talita Rocha of Brazil.
Results.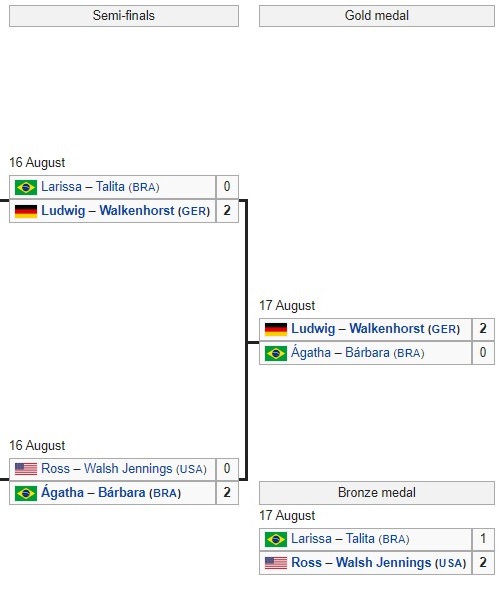 Womens olympic beach volleyball for the 2012 Olympics was held in London, Englandl.
Misty May-Treanor and Kerri Walsh won Gold by defeating the other Americans Jen Kessy and April Ross. This was the third consecutive beach volleyball Olympic gold medal for USA, while Brazil beat out China to take the bronze.
May-Treanor and Walsh became the first team to win this tournament twice. This put them together with the sports' all-time greats.
Results.
Beach volleyball at the 2008 Olympic Games.

Misty May-Treanor and Kerri Walsh are the gold medalists in womens beach volleyball at the 2008 Summer Olympics.
In pouring down rain, May and Walsh beat the Chinese team of TIAN Jia and WANG Jie in the final.

Walsh and May-Treanor weathered everything Tian and Wang and a rowdy rain-soaked home crowd, could throw at them.
With heavy rain causing the ball to be extremely slippery, the Chinese team tried hard to defeat the US pair. May and Walsh prevailed 21-18, 21-18, having still not lost a match in Olympic competition.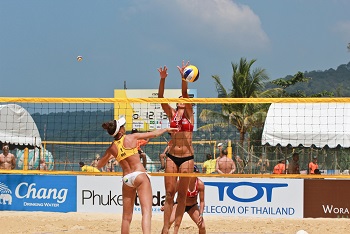 Zhang and Xue beat Renata Ribeiro and Talita Rocha of Brazil in straight sets to win the bronze medal.
---
Womens Olympic Beach Volleyball 2004 

Greece's Olympic Beach Volleyball Center, a 10,000-seat arena constructed south of Athens for the Games, is the first Olympic facility equipped to stage women's olympic beach volleyball matches at night. When the facility was built, included in the construction were floodlights.

Misty May-Treanor and Kerri Walsh became the first American women's team to capture the gold medal at the 2004 Athens Games. At the beginning of the Games, Misty May had been out for about two months due to an abdominal strain.
May would find a way fighting past her stomach injury and dominate the competition with fellow partner Kerri Walsh.
May and Walsh went 7-0 with all straight-set victories, to earn the U.S. its first gold in women's Olympic beach volleyball. May and Walsh crushed Brazil's Adriana Behar and Shelda Bede, 21-17, 21-11, in the final.
The American tandem of Holly McPeak and Elaine Youngs took home bronze.
---
2000 Olympics

Women's Olympic beach volleyball in 2000 was akin to a rock concert. It was held at Bondi Beach and was wildly popular among the Australian crowds. It then fulfilled the destiny described by Olympic historian Ian Buchanan, who once noted that beach volleyball was basically "Baywatch with a medal ceremony."

The women's event was highlighted by a major upset featuring the Australian team of Natalie Cook and Kerri Pottharst winning over the best team in the world, Adriana Behar and Shelda Bede of Brazil to win the "Gold-Medal".
---
1996 Olympics

In the 1996 womens olympic beach volleyball, it was an all Brazilian final. The top seeded team of Jacqui Silva and Sandra Pires defeated Monica Rodrigues and Adriana Samuel.

To take the bronze medal, it was Natalie Cook and Kerri Pottharst of Australia defeating Barbara Fontana and Linda Hanley of the United States, 12-11 and 12-7.
---
Volleyball › Beach Volleyball Players › Women's Olympic Beach
---
---