Awesome Volleyball Clipart
Animated Volleyball clip Art Images, Gifs, and Figures
Here's some awesome volleyball clipart!
Animated Volleyball GIF

Clipart images are fun to use as animations on your website.

Also, clipart graphics can be used to add excitement to emails you send your friends.
Other uses for clipart include emailing rosters, games, stats, maps, pictures, tournaments, school projects, t-shirts, and videos.

---
Beach Volleyball GIF

Animated volleyball graphics are fun to use as part of an email signature.
The animated graphic is usually placed near the signature tagline at the end of the email.

Animated graphics are also commonly used as part of a persons id on message boards.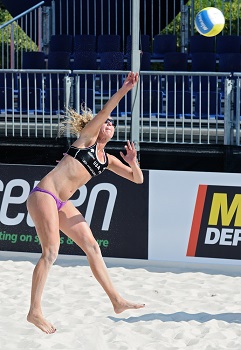 ---
Bouncing Volleyball

Animated graphics are a big part of the success of e-cards. E-cards are electronic greeting cards that are sent through email.
E-card have become popular because of how easy they are to create and they're alse free.
---
Volleyball Passing GIF

Are you designing your team website? Animated volleyball gifs will make your website fun and interesting for each visitor. Spice up your webpages headlines with volleyball pictures.

Volleyball gifs are also great for a personal blog or the background desktop wallpaper. Also get creative with volleyball team logos.

---
Volleyball Spike Approach

Animated clipart could even be used to help teach correct volleyball playing technique and improve volleyball skills.
If you're interested in seeing more images, please don't hesitate to contact me.

Volleyball Clipart Related Pages
---
Volleyball › Volleyball Clipart › Awesome Clipart
---
Share This Page
Did you find this page helpful? If so, I'd be incredibly grateful if you considered sharing it with a friend who might find it useful as well. In addition to helping them out, it also helps strength-and-power-for-volleyball.com grow! If you'd like to share this page on your social accounts, you can use the buttons below.